CE&O Impact
The CE&O council has four areas of outreach:
Grants to K-12 Music Programs provide support to Seattle area school music programs (K-12),
Brava! recognizes outstanding women of excellence who have made a significant difference in our community. They are honored at a dinner in the spring.
Charitable Outreach supports other 501(c)3 charities focused on education and support of women and children.
Public Programs provides educational public programs/lectures for the benefit of the community.
Grants to K-12 Music Programs
CE&O's Music Counts! program is designed to provide grants to public school music teachers for "scores" of needs from coaching, instrument repairs and sheet music, to new instruments and educational materials. Grants have been awarded to elementary, middle, and high school programs (see chart below). Over the past 10 years close to $110,000 in grants have been awarded to Seattle area schools' music programs, and the numbers of grants awarded have increased from 5 in 2011 to 45 in 2020.
The Gendler Grants Program is made possible thanks to the generosity of the late Natalie Gendler, WUC member and long-time advocate for music programs in the schools. These grants focus on funding durable, significant improvements to a school's music program and are directed to low-resourced schools with high student body diversity, high percentages of Free/Reduced Lunch, and high incidence of homelessness among students, or other indications of significant challenges.
In 2020, the first the recipient of a Gendler Grant was Amy Stevenson, Music Department Chair at Lynnwood High School. Her successful grant, which runs for two years, is focused on two areas: expanding her school's professional coaching program and enlarging the music library to include more women composers and composers of color.
In 2021, three Gendler grants were awarded:

Mark Edgbert, Music Specialist, K-5 at Rising Star Elementary @ African American Academy, received a one-year grant to fund the purchase of two packages—a drumming package (includes drums and percussion instruments) and a barred instrument package.

Kathryn Lenoue, Music Teacher at Rainier Beach HS, received a one-year grant to fund the purchase of a set of African marimbas.

Robert Morgan, Music teacher, Secondary Academy for Success, received a grant spanning three years to fund coaching services, repair and replacement of certain instruments, and the purchase of software to assist in virtual learning.
The CE&O Council thanks you for your support and urges you to think of music teachers you may know who could use financial help and urge them to apply for either of these grants.
Brava!
Each year we identify "Women of Excellence" in our state who have made an impact by their service to others and celebrate them at our annual Brava! Award Banquet. Since 2003, we have honored over 50 women of excellence for their contributions—women scientists, publishers, fashion designers, artists, journalists, entrepreneurs, and civic and community leaders. This same evening, we honor our scholarship winners, graduating high-school senior women and "women-in-transition" (women who stopped their education for various reasons and would now like to go back to school to improve their circumstances). Over the years, our Brava! and scholarship winners have inspired and encouraged all of us to have a positive impact on our community and beyond.
Holiday Charity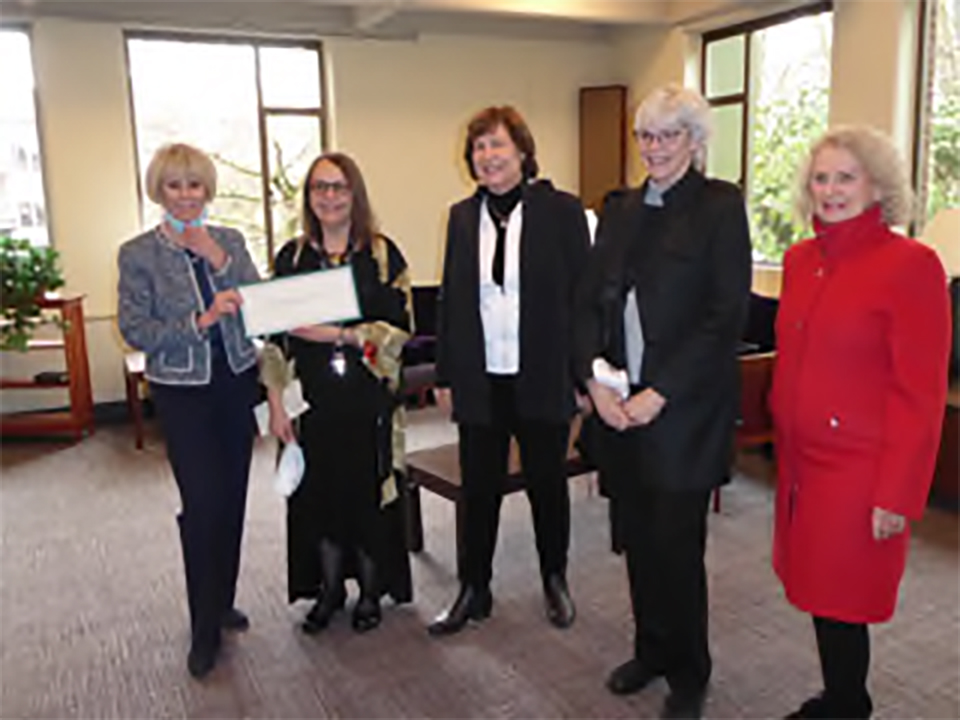 2020 The Elizabeth Gregory Home The EGH mission is to provide a welcoming and respectful refuge where homeless and at-risk women have access to compassionate care including hygiene, mental health, nutrition, medical and dental assistance, housing and financial stability. A check for $20,000 raised from the many generous donations was presented to Elizabeth Gregory House on February 26, 2021.
From left: Nancy Lee Smith, chair of the 2021 Holiday Charity Committee; Ruth Herold, Executive Director, Elizabeth Gregory Home; Sharon Gillaspie and Judy Ramey, co-trustees of the WUCF Council for Community Education and Outreach; and Marie Anderson, WUC President-Elect and WUCF Liaison.
2019 Mary's Place On Valentine's Day a check for $7,000 was delivered to Mary's Place. These funds were generously donated by WUC members to support the important work of Mary's Place in helping women and families move out of homelessness.
2018 Parent Trust for Washington Children Community Education & Outreach Council collected $3,500 to support this organization which helps meet the needs of families transitioning into parenthood by helping find resources, parenting classes, and new parent education.
2017 Eastside Baby Corner helps kids reach their full potential tomorrow by meeting basic needs today. A check for $4,375 was presented to EBC in March 2018.
Public Programs
Ellen Stewart Blom Memorial Arts Lecture Series
2021 The Fourth Blom Lecture has been delayed by Covid-19 and is still to be determined.
2019 The Third Blom lecture, September 22, 2019, was presented by Lynda V. Mapes, Science and Environment reporter for The Seattle Times, and author of several books, most recently Witness Tree: Seasons of Change with a Century-Old Oak.
2018 The Second Blom Lecture, August 12, 2018, featured Jim Lynch, novelist, whose most recent book was Truth Like the Sun (2012).
2017 The First Blom Lecture, August 6, 2017, was presented by Phil Borges, social documentary photographer and filmmaker, whose recent works included Crazywise and Stirring the Fire: A Global Movement to Empower Women and Girls.
Other Shared Community Programs
2019 Secret Lives of Muslims. Co-sponsored by the WUC Foundation, Seattle Rotary, the City of Seattle Human Rights Commission, World Without Hate, and the Muslim Association of Puget Sound. A screening of episodes of this web series, followed by a panel discussion, and open Q&A.
2018 I am Jane Doe. The Community Education & Outreach Council partnered with the Rotary Club of Seattle to sponsor a screening of "I Am Jane Doe" — a documentary film highlighting the fight against sex trafficking in America. (Learn more at iamjanedoefilm.com.)