Brava! Awards
Meet the Brava Recipients
Each year we identify "Women of Excellence" in our state who have made an impact by their service to others and celebrate them at our annual Brava! Award Banquet. Following are this year's honorees:
2022-2023
Dr. Sheila Edwards Lange
Chancellor, University of Washington Tacoma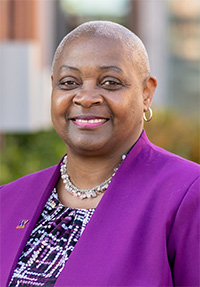 Dr. Sheila Edwards Lange was appointed to serve as Chancellor of the University of Washington Tacoma in September 2021. As the chief executive officer of the campus, she provides leadership on all campus matters. She has a wide range of experience in higher education administration and has been a leading advocate for diversity and inclusion throughout her career. Prior to her position at UW Tacoma, Dr. Lange served as President of Seattle Central College (SCC). From 2007 to 2015, Dr. Lange served as Vice President and Vice Provost for Minority Affairs & Diversity at UW in Seattle.

She was born in the small town of Pachuta, Miss., and, as a first-generation college student, received a bachelor's degree in social ecology from the University of California, Irvine. She earned a doctorate in educational leadership and policy studies and a Master of Public Administration from the University of Washington in Seattle.
Sally Jewell
Affiliate Professor, UW Foster School of Business, Former U.S. Secretary of the Interior
Sally Jewell served as U.S. Secretary of the Interior from 2013-17, following 40+ years in business, including eight years as CEO of REI. In government, she advocated for balanced protection of public lands and waters, leveraged science to shape a landscape-level understanding of our resources, nurtured a respectful nation-to-nation relationship with Native American tribes, and engaged youth in opportunities to experience and care for the natural world.
Her volunteer service over the course of her career in environmental, educational, social service, and business organizations, has given her an appreciation of the inner workings of our democracy and civil society, earning her multiple awards along the way. Sally's current focus is helping students and faculty at the UW and beyond work across disciplines, and in partnership with communities, understand how their diverse skills and life experiences are essential to shaping a future that is equitable, economically successful, and environmentally sustainable for all.
Dr. Mary-Claire King
American Cancer Society Professor of Medicine and Genome Sciences, University of Washington
Mary-Claire King is American Cancer Society Professor at the University of Washington in Seattle. She was the first to show that breast cancer is inherited in some families, as the result of mutations in the gene that she discovered and named BRCA1. Her other research interests include the genetic bases of severe mental illness, the genetic causes of birth disorders in children, and human genetic diversity and evolution. She pioneered the use of DNA sequencing for human rights investigations, applying mitochondrial DNA sequencing to the identification of kidnapped children in Argentina and subsequently to cases of human rights violations on six continents.
Dr. King grew up in Chicago. She received her BA cum laude in Mathematics from Carleton College in Minnesota; her PhD in Genetics from the University of California at Berkeley; and her postdoctoral training at UC San Francisco. Her PhD dissertation was the demonstration that protein-coding DNA sequences of humans and chimpanzees are 99% identical. She was professor at UC Berkeley from 1976-1995 and at the University of Washington since 1995.

Dr. King's awards include election to the National Academy of Sciences and the National Academy of Medicine, and in 2016, the US National Medal of Science.
---
Following are our previous years' Brava! honorees:
2022
Monica Alexander, Captain of Washington State Patrol (Retired)
Dr. Kristie Ebi, UW Global Health Professor, Co-Author of United Nations IP Report, Global Climate Change
Christine Gregoire, Former Governor of Washington State, CEO of Challenge Seattle
2020 - 2021
(Coronavirus restrictions; no awards given)
2019
Colleen Echohawk, Director of Chief Seattle Club
Marty Hartman, Director of Mary's Place
Georgia Gerber, Sculptor and Advocate for the Arts
2018
WUC Community Civic Leaders
Catherine Gibson
Frances Heaverlo
Karen Lane
Pearl Noreen
Carolyn Quatier
Karen Wong
2017
Leslie Jackson Chihuly, President Chihuly Studios and Advocate for the Arts
Janet JonesPreston, Global Humanitarian and Community Leader
Megan Karch, CEO, FareStart
2016
Sara Boos, Artistic Director, Northwest Girlchoir
Barbara Earl Thomas, Noted Artist, Writer and Former Director of the African American Museum
Trina Westerlund, Founder, Children's Institute for Learning Differences
2015
Sheila Capestany, Founder, Open Arms Perinatal Services
Margaret Larson, Broadcast Journalist and Host, KING 5 TV's New Day Northwest
Mary Yu, Washington State Supreme Court Justice
2014
Women of the Century
Dorothy C Bullitt
Dorothy Stimson Bullitt
Harriet Overton Bullitt
Katharine "Kay" Muller Bullitt
Priscilla "Patsy" Bullitt Collins
2013
Janis Avery, CEO, Treehouse for Kids
The Honorable Bobbe J Bridge, Founder and CEO, Children & Youth Justice
Maureen Browning, Founder, Friendship Adventures
2012
(Ten-year reunion celebration; no awards given)
2011
Maggie Walker, Civic Leader and Philanthropist
Luly Yang, Fashion Designer and Entrepreneur
Sister Kathleen Ross and Martha Yallup, Founders, Heritage College in Yakima
2010
Kathy Johanson and Stacy Lill, Founders and Owners, O Wines Winery
Lisa Brummel and Ginny Gilder, Ownership Team Seattle Storm
Anne Levinson and Dawn Trudeau, Ownership Team Seattle Storm
2009
Jennifer James, Urban Cultural Anthropologist
Jane Jones, Founder, Book-It-Theatre
Jean Walkinshaw, Producer
2008
Jane Hastings, Architect
Deborah Jacobs, Seattle City Librarian
Patrinell "Pat" Wright, Founder, Total Experience Gospel Choir
2007
Barbara Bennett, Founder, First Place School
Anne Gould Hauberg, Arts & Education Activist
Karen Moyer, Co-founder, The Moyer Foundation for Children in Distress
2006
Marja Brandon, Founder and Executive Director, Seattle Girls' School
Katharine "Kay" Bullitt, Noted Seattle Civic Leader and Community Activist
Dr. Bonnie J Dunbar, President and CEO, Seattle's Museum of Flight
2005
Dr. Linda Buck, 2004 Nobel Laureate in Physiology or Medicine
Assunta Ng, Publisher, NW Asian Weekly
Colleen Willoughby, President and Founder, Washington Women's Foundation
2004
Jeanne Ehrlichman Bluechel, Music Education Activist
Linda Hartzell, Artistic Director, Seattle Children's Theatre
Nancy Pearl, Director, Washington Center for the Book
2003
Virginia Anderson, Director, Seattle Center
Francia Russell, Co-Artistic Director, Pacific NW Ballet
Rita Ryder, Director, Snohomish and King County YWCA